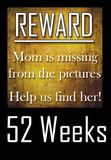 I'm participating in what I think is a really great weekly challenge hosted by Carin at
Forever in Blue Jeans
. It seems like us Mums spend an awful lot of time behind the camera. The idea of this challenge is forMum's to get on the other side of the camera in at least one photo a week.
Since i have spent most of this week in hospital being ill i was unable to get a pic of myself with one/two or all of the kids so i am using my absolute favourite one from when they were younger..I know it's a cheat but i have a valid excuse....and i am sure you will like it as much as i do:
I also got a parcel in the post today. I wasn't expecting anything, no birthdays or anniversaries coming up. So i was really curious as to what it could be....
Oh my I was so surprised and excited when i got it....
Yes indeed it was my "pay it forward" surprise from Shauna over at
Trying to Stay Calm
. She sent all these goodies to me just for being first to reply to pay it forward post on her blog and running my own on my blog! Isn't she a sweety?
Oh and Ron over at
Troubled Ramblings
has been at it again too, here is Rae (he says he isn't too keen on this one..but i l♥ve it!):
So while it wasn't my best week health wise...I am so so grateful for the lovely friends i have...especially my blogging ones who made me feel so special at a time when i have been feeling so poorly. Thank you everyone.
I have also been tagged by
Leah at A Silly Little Sparrow
and am promising to take part probably tomorrow.
Speaking of tomorrow i will be getting Becky's Coeliac results tomorrow too. It's all fun here you know!